Filter Reviews
Size
Fit
Comfort
Arch
Material
Color
Leather
Heel
Quality
Look
Feel
Support
...
Style
Work
Booties
Boots
Clogs
Break
Shoes
Ankle
Pair
Brand
Dansko
Danskos
5.0 star rating

4.0 star rating

3.0 star rating

2.0 star rating

1.0 star rating
Highly Recommend
Review by Jvon D. on 10 Jun 2020
review stating Highly Recommend
Love love love! Great ankle support. I wear on long 12hr nursing shifts, but want to wear them everywhere! I may need to buy another pair. Highly recommend.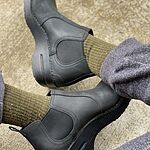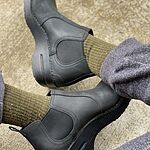 My perfect shoe
Review by Donna on 5 Feb 2020
review stating My perfect shoe
These have been my go-to shoes from the moment they arrived. I ordered my typical Dansko size and they fit as expected. These shoes fit my feet perfectly. They provide substantial support and keep my feet and legs from feeling fatigued all day long. I wish the brown color was still available; so much so I'm considering buying a second pair for when these become extinct as well. These would be so cute in a gray color - hint hint!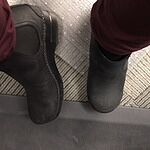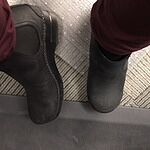 Alexandra
5.0 star rating
IN LOVE
Review by Alexandra on 5 Feb 2020
review stating IN LOVE
Hoped these would come back in stock and I'm so glad they did! Not only did they arrive on the date the were scheduled to ship (awesome surprise!), but they are now my favorite (work) shoes!

I've worn them on three different shifts now and they are so comfortable to walk in. I was skeptical about the rocker bottoms being anything noteworthy, but I was so wrong! The stress it relieves on your stride is instantly noticeable. They are super well-made and the material feels sturdy and durable!

Ready to put them to the test!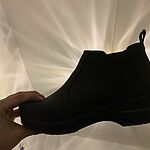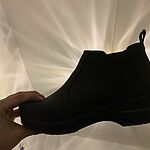 Comfortable Shoe-tee
Review by Kay on 13 Jan 2021
review stating Comfortable Shoe-tee
If you like the Dansko Professional shoes, then you will likely love the Frankie. I'm a retired teacher and I've been living in the Dansko Professionals since they first came out. The Frankie has a similar fit but it's more like a slip-on bootie with a wide elastic band on the sides which works well when slipping them on/off. They're great in the winter because the shoe is higher around the sides and covers the top of the foot more. Living in Michigan, there's nothing worse than snow finding its way into my shoes. With these, that rarely happens unless stepping into a snowbank is inevitable. Also, they are not insulated so they are technically a shoe...or a boot wannabe. Warm, wool socks will help! I bought them in black and LOVE them! I hope you will too.
LOVE!!
Review by Kim on 10 Jan 2021
review stating LOVE!!
Love my new booties, so comfortable, saves my back on a 10 hour day! I get soo many complement on them!!
Q: I ordered these in a 39, my usual size. They seem a bit big. Should your heel be moving up and down like in the regular clog?
A: Hello,
Yes, some heel movement up and down is expected with the Frankie style. The fit should be very similar to the clog style.