Superior support for your feet
Review by Pamela on 2 May 2019
The downside is price, but you get excellent support from Dansko's arch system, nice stability, and of course they look great. I could not walk distances without these shoes. Roomy and cushioned, and even office-worthy in the right color.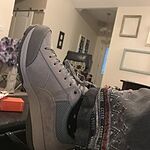 Love These
Review by NORA on 10 Nov 2019
This shoe is so good to my troubled feet. Fits like a glove and plenty of support. It looks great on as well
Great shoe!
Review by Debra on 8 Nov 2019
Great shoe!
I do wish they had
Review by Jeannine on 6 Nov 2019
I do wish they had 1/2 sizes
Love them!
Review by Joanne on 1 Nov 2019
I'm officially in love with Dansko Shoes. I have never had a more supportive or comfortable shoe. Also the the Honor sneaker.
Please Dansko, offer more shoes in wide. I am very limited as you have only limited shoes in wide.
Q: Can these be washed in the washing machine if the insoles are removed?
A: Hello,
The Paisley is made of suede leather and we do not recommend cleaning them in a washing machine. We do have a product we recommend for cleaning suede and nubuck leather. Please click the link below to view this product.
dansko.com/nubuck-block-brush