Superior support for your feet
Review by Pamela on 2 May 2019
The downside is price, but you get excellent support from Dansko's arch system, nice stability, and of course they look great. I could not walk distances without these shoes. Roomy and cushioned, and even office-worthy in the right color.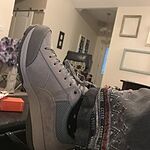 Beautiful
Review by Kerri on 13 Nov 2019
This is my second pair of these paisleys absolutely love them wear them 9 to 11 hours a day very comfortable very beautiful recommend them highly
I could sleep in these
Review by Sharon on 11 Nov 2019
I have these in five colors. I am anxiously waiting for a true purple.
Super comfortable without being flashy.
Still want purple.
I am so pleased with
Review by Linda on 8 Nov 2019
I am so pleased with these. I needed a shoe I could wear with black slacks for work and these look cute. My high arch needs support yet I can't tolerate pressure across the top of my foot. So comfy and waterproof!

Could I get coupon since your email survey wasnt working yet I found you anyway?
Love this shoe!
Review by Mary on 22 Oct 2019
This is my third pair of this style of dansko. They're comfortable and attractive. If dansko would reduce the price for a pair they'd be perfect.