Superior support for your feet
Review by Pamela on 2 May 2019
The downside is price, but you get excellent support from Dansko's arch system, nice stability, and of course they look great. I could not walk distances without these shoes. Roomy and cushioned, and even office-worthy in the right color.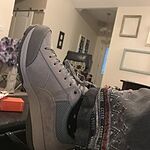 Great shoes!
Review by Elisabeth on 19 Sep 2019
Very comfortable and attractive.
Great for hiking
Review by Janet on 16 Sep 2019
Wore these wonderful shoes while hiking in Ireland for 9 days!! Great support and comfort..
Purchase for Work - Use for Everything
Review by Deborah on 19 Jun 2019
I initially purchased these shoes for work - I wanted something that wouldn't kill my feet while standing on them for 6-10 hours a day. I also wanted to purchase a pair of shoes that would last longer than 6 months. I've been wearing them for over a month, and they have become my walking shoes as well. Unlike some reviews I read before purchasing, my size fit me perfectly. I am very satisfied with my purchase and will be buying Danskos again, if needed.
Fantastic Shoe!
Review by Roslynn on 15 Jun 2019
Fantastic Shoe!
Q: Is the color Pine a very dark green? It looks dark grey on my computer screen.
A: Hello,
The pine color of the Paisley does have an undertone of grey much like a slate color. The stitching is green and the overall color does read as more of a green than a grey.