Filter Reviews
Width
Size
Fit
Arch
Color
Leather
Snug
Pain
Look
Comfort
Quality
Problem
...
Design
Feel
Style
Support
Customer Service
Shipping
Toes
Feet
Shoes
Friend
Dansko
Danskos
5.0 star rating

4.0 star rating

3.0 star rating

2.0 star rating

1.0 star rating
So comfortable!
Review by Caryn B. on 25 Jun 2020
review stating So comfortable!
Great pair with nice wiggle room for the toes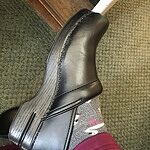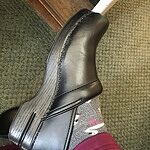 These shoes are the best
Review by Douang on 28 May 2020
review stating These shoes are the best
These shoes are the best in the world of clogs. Because of their hardiness, once in awhile if I have thicker socks on, I could feel my little toe's corn pain erupting in acute pain as it pushes against the side of the shoe. However, even without socks, they are easy to wear. Maybe order a half size larger if you will wear socks unless your feet are perfect! Lol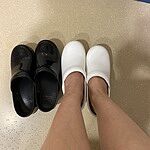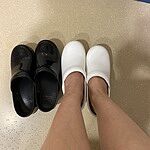 not just for nurses
Review by Jaime on 17 Sep 2020
review stating not just for nurses
these are my favorite shoes. i forgot that they take a while to break in and not slip when walking uphill, but otherwise they're so comfortable. and i love how they look - jolie-laide in a way.
Awesome
Review by Perry on 29 Aug 2020
review stating Awesome
I have recently purchased my second pair of dansko shoes (clogs). I work in surgery and these are the only shoes that keep my feet from tiring out. My first pair lasted me 14 years.
Great shoes
Review by Sarah on 29 Aug 2020
review stating Great shoes
I'm a nursing student so I'm on my feet most of the day, these shoes are so amazing. They're comfy and well priced!
Q: Are they nonslip shoes and comfortable to work in when your on your feet all day?
A: Hello,
The Professional style provides great support from heel to toe for all day wear. However, if you are looking for a slip resistant outsole, I would recommend the Pro XP style. The Pro XP has been certified as slip resistant whereas the Professional style has an anti skid tread (not certified as slip resistant).
Q: I use an orthotic insert for plantar fasciitis. Is the footbed removeable (so I can replace it w my orthotic)?
A: Hello,
The Professional from our Stapled Collections does not feature a removable footbed. I would suggest trying the XP 2.0, which does feature a removable footbed, so the shoe may accommodate a custom orthotic.