Filter Reviews
Size
Fit
Color
Feet
Band
Leather
Quality
Blisters
Look
Comfort
Width
Problem
...
Feel
Style
Finish
Pain
Socks
Shoes
Support
Foot
Store
Shipping
Wear
Work
5 star rating

4 star rating

3 star rating

2 star rating

1 star rating
Comfortable and cute for hours of wear
Review by Sarah on 17 Nov 2019
review stating Comfortable and cute for hours of wear
This is my first pair of Dansko clogs. I have admired them on others and really wanted a pair for myself. They were comfortable right out of the box and I wore them all day with no complaints of pain. I wear them for work, on my feet for hours, and they are still comfortable. A small amount of pinching on my baby toe after a really long day, but no blisters or lasting pain which is great. They will probably get more comfortable as I break them in even more. Others have said that their clogs are tight along the top of their foot and need to be stretched, but mine fit absolutely perfectly. I wear a size 7 and a 37 in clogs. Worn with socks or without, these are my new favorite shoe and get lots of compliments! The honey color has a bit of a distressed look and a slightly glossy finish which is a plus for me. They don't get stains and spots if they get a drip of water on them from the sink or wet grass. Can you tell I like these shoes? Highly recommend!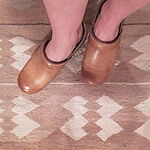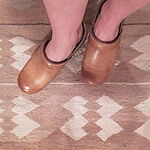 Love the color !!!! Got
Review by Yanexi on 31 Jan 2019
review stating Love the color !!!! Got
Love the color !!!! Got many compliments at the hospital!!!!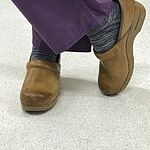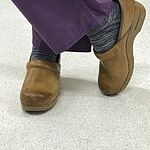 I love the Professional Honey Distressed Dansko
Review by Helen on 3 Nov 2018
review stating I love the Professional Honey Distressed Dansko
However, when I wear them, they make me feel Carefree, Comfortable and Cheered! I am NEVER distressed wearing the Professional Honey! Thank you for all the comfort you give me when I'm wearing your shoes. I bought the Professional Candy Dansko for my daughter for Christmas! I already bought me a pair of the Professional Candy a while ago. I want to buy so many more of your shoes before I retire! Yes, I love them that much! Thank you Dansko for making such a perfect shoe! Keep up the good work! - Helen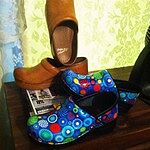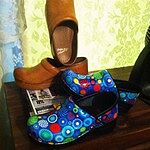 SO IN LOVE
Review by Nicole on 18 Sep 2018
review stating SO IN LOVE
Absolutely Cinderella fit and SO CUTE, completely in love!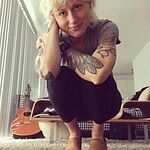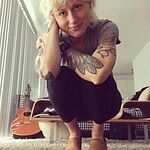 Color is off
Review by Kathy V. on 31 Jul 2018
review stating Color is off
I love Dansko shoes! I've worn them as my work shoe for 15 yrs. The only reason I didn't give 5 ⭐️ is d/t color. They are not as pictured. They are yellow. Other people I work with also received "yellow" shoes. I still love them.